Administrator
Staff member
Lifetime Member
Premium Member
City

Pine Island
State

Florida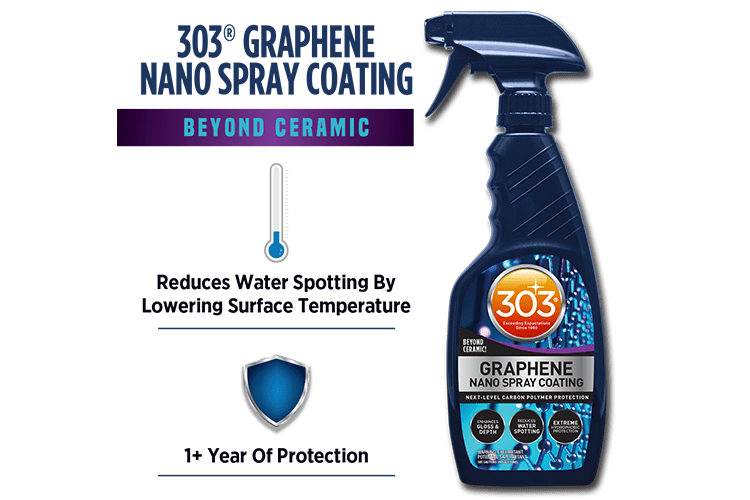 As most here know from past articles, I am a hug fan of "Seal and Shine" from Turtle Wax, and I still have and use it, in my arsenal of detailing supplies not only for my SUV, but Marine applications also... Then as I started hearing about Graphene and it's use in Coatings and of course, digging through both the hype and misinformation (hate) on this product that is stronger than steel. I started to think, how this would be a great formulation to try myself and see how those results were?
So, as normal, and about once every 6 months or there about. I took the time to prep the paint with a good stripping soap, clay bar (actually a clay mitt in my wash bucket to save time) and iron free application, then rinsed off with my pressure washer. Those steps including the roof, which is not always easy to do on a SUV and why I picked up an adjustable folding step platform (that helped a lot!) took about 3 hours I figure.
Then it was a simple process of applying the
303 Graphene Nano coating
on a microfiber pad in a cross hatch manner (as directed) and then leveled off with a separate clean soft microfiber towel. Very easy to put on and take off and though it states it does not need any actual curing time, I feel / saw with my eye it really Popped with a deep shine overnight. Here are some shots and I will let the pictures tell the rest of the Story
Even helped shine and protect the Headlights that I just buffed out and replaced the bulbs with newer LED versions
Next was a 2000 mile road trip a few days later, and any water or moisture that landed on the Xterra just flew off like water off a ducks back! Much better than other products I have tested and used over the years, and even in my opinion... Better than the Graphene Infused paste wax that Turtle Wax makes that I have used on our other SUV. Clean up since then has been simple, and quicker now simply by hitting it with a pressure washer and my leaf blower to knock any road grime or dust off of her.
Here is few videos on the product that you may find very interesting for those who like to research such things. Or like yours truly, like to find out as much as I can before I spend my hard earned money on ANY product!
How to best use use and apply it:
And for those who like to really
Geek Out
(Guilty as charged) and do a deep dive into Graphene and this Product, from the Lab Manager who helped to formulate it from 303:
As for myself, I am very pleased with the results and IF the proper prep steps are taken, feel quite sure you will see awesome results yourself and more important! Protection that wears like Iron not only for your 4wheeled toys and Tow units, but cross applications on items like your Outboards, metal work and Fiberglass Hulls which I will be testing and reporting back upon myself here in the very near future.
And unlike the cost of many of these types products (mostly Ceramic / Sio2 type of coatings) the price point is just great. When you see coatings like this run into the range of $200.00 plus a bottle... Being able to get a quality coating for the $20.00 range is just phenomenal!
Even IF you only get a year or so of protection which is not a problem for myself since I will just reapply it every 6 months or so
I can buy and have on hand, a lot of
303 Graphene Nano coating
for sure!
And though not shipping just yet that I can find, 303 now has come up with a
Graphene Instant detailer
that you can use as a drying aid to really help keep your coating in top condition in between applications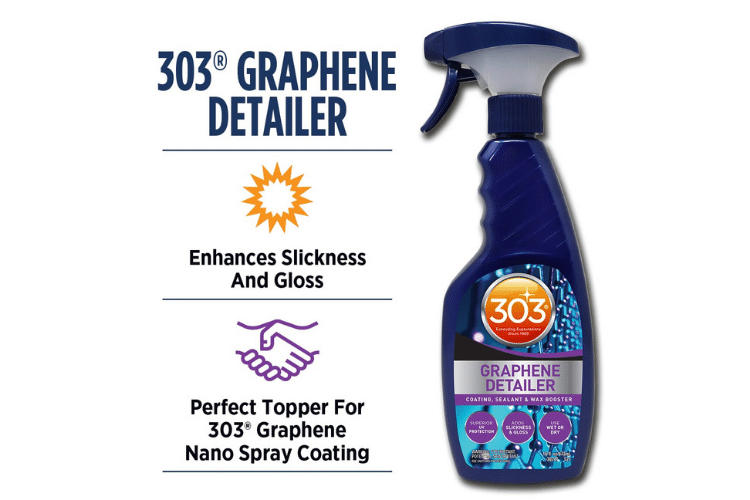 More on that Product on this video:
Now, you can find out more about both of these products on these links:
303 Graphene Nano Spray Coating:
https://www.goldeagle.com/product/303-graphene-nano-spray-coating/
And the even newer (which I am looking to get and test here soon) the
303 Graphene Detailer:
https://www.goldeagle.com/product/303-graphene-detailer/
Hope this helps and do share your findings on these products and your best use cases
And do let them know the guys from
Performance Outdoors.Net
sent you when you reach out to them!
Also, if you enjoy the Site don't forget tell your friends (It's free) to join us!
All My Best,
Dave