Administrator
Staff member
Lifetime Member
I have been the proud owner of 3 Triumph Boats, my current boat is a 2006 170cc w/ Yamaha 60hp, 4 stroke. On August 21 & 22, 2008, Tropical Storm FAY hit Jacksonville. This slow moving storm had local winds measured at over 60mph and lasted for nearly 36 hours.


I live on the Trout River a large tributary of the St. Johns River. Many piers and docks were torn apart, with reportedly thousands of boats sunk or damaged. My boat was at my pier on an AirDock, sitting off the water, when the storm hit. A piece of debris floated against the boat and under, lodging into the dock system. The dock, under heavy wind, broke apart and debris unfortunately, punctured one side of the docking system. This was bad as only one side collapsed and rolled my Triumph off the port side and right onto the pier pylons. With safety lines in place, the boat could not do anything but slam the flooded pier, which was underwater, with rising and lowering tides, for more than 26 hours. The boat swamped.


After the storm, the boat was salvaged and trailered. I have waited until now to write, as I wanted to get a final determination from Kohl Boat Restoration and YamaTech, LLC that the boat was in fact, absolutely undamaged, except for a small rubber cover for a rod holder! That's right, not even a scratch!


My insurance company, after seeing photos, and taking a statement was sure the vessel was a total loss. I said, No, you don't understand. We're talking about a Triumph Boat. Remember the boat dropped from a Helicopter and the commercials of one being dragged along a street and it still floats?" "This boat is designed not to sink, and also keep the motor Power Head out of the water. It did both perfectly." They still insisted on the boat being evaluated for damage and frankly, they were amazed.


I am 60 years old and have owned over 20 boats in my lifetime. I feel very safe and stable in my Triumph Boat. I will never own anything else!


Thank you for the world's toughest boat.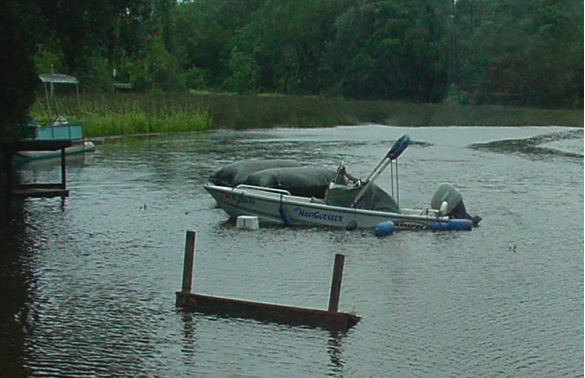 Photo taken at high tide. The boat is at the pier.
​
Mike Davis "The NaviGuesser"

Jacksonville, Florida
Last edited: