Administrator
Staff member
Lifetime Member
Premium Member
City

Pine Island
State

Florida
Good Afternoon Everybody!
It is with great pleasure that Randy and I get to welcome Dan Roberts to the site as a SME (Subject Matter Expert) for both
Trim Tabs and Battery Chargers
. Dan is the President of
Linear Devices
and personally manages Lectrotab's engineering, production, distribution and marketing.
My interaction with Dan started when I called Lectrotab, and asked to speak with Technical Support on a simple problem and theory I had, with the Trim Tabs on our Beavertail Strike
Seems that when ours was built / wired the tab power leads were connected backwards (simple mistake) and Dan was most helpful and walked me through the process of how to switch the wires over so at the control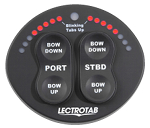 so it would work the correct tab
Dan and I had then a great chat about other Marine related topics, and he was most willing to help out our members here when I brought up our Site
So we welcome him aboard and really looking forward to working with Dan in the future! This as we work on adding his both wisdom and their product offerings to the site. So if you have any questions on either subject, please know that we are very blessed to have such an expert here to help field those questions!
More information including technical documentation about the Lectrotab product line can be found here:
http://www.lectrotab.com/
And if you are looking to add or upgrade a set of Trim Tab for your boat (ours work great and Flats Skiffs by nature need them all the time) on their site is an excellent link on how to "Configure your trim tab system" located here:
http://www.lectrotab.com/order-guide/configure-your-trim-tab-system.php
Here though does go back a few years, is a overview video on their trim tab products
You can also find more product information about their line of Marine Battery Chargers on this link:
http://www.sentrychargers.com/
And if you need any help with a new or present system Dan is here to help and truly I can speak from personal experience, they have World Class Customer Support! If you do call them direct, let them know the guys from Performance Outdoors set you
All My Best,
Dave / Associate Administrator